Insurance Software
---
IMPACT Insure
IMPACT Insure is the next generation of risk insurance and back office software for the insurance sector. Whether you are a small MGA or a large Insurer, we have a solution which can be tailored further to meet all of your business needs. This means in many cases you could have a much more automated system.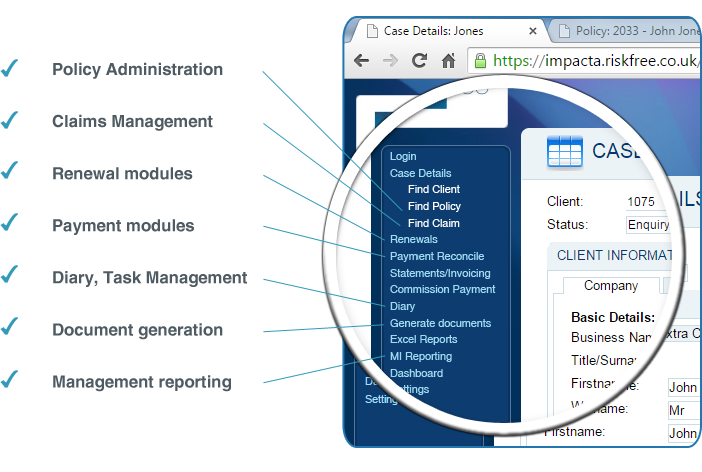 Who is it for?

IMPACT is designed for risk insurers, general insurers, insurance brokers, Syndicates and MGA's. The flexibility of the system means we can support any type of business including marine, aviation, buildings, life, motor, medical, general, pet, re-insurance and more. Clients range from large established multinational insurers to small or medium organisations who are looking for the right software to help them expand and grow.
IMPACT allows complete customer management and multiple policies for different business types. It can also handle claims and has a full paperless office document generation and management system built-in. See our feature list for full details on what the system can do for you.





Over the last 15 years, IMPACT has evolved to become a full end-to-end system; allowing front end customer use and integration to the web and complete back-office management. We have been engaged in partnership work with some of the leading providers of general and specialist insurance services for over a decade. Not only are we experienced in the sector, we believe we provide the best system in the market. Our system has been created to provide scalability and adaptability to your business. Therefore, if you are a small to medium business, you can purchase core elements and/or bolt on components of the system, specific to your business. Whereas, a larger organisation may be looking for a full system change to take them into the next decade.