Lender Software
---
IMPACT Lender
Impact Lender software is designed for both traditional longer term and specialist shorter term lenders. If you need just the back office system or a complete end to end system then we have the solution for you.

We are one of the UK's leading short-term lender platform providers - We have more short-term lenders than any other software provider in the UK. In 2011, Impact became an international product and we now cover all English speaking countries.

Our Clients - Our software is used by some of the largest banks, traditional lenders, peer-to-peer lenders, niche, secured, non-secured, bridging and 2nd charge lenders including regulated and unregulated businesses.


Core Features
---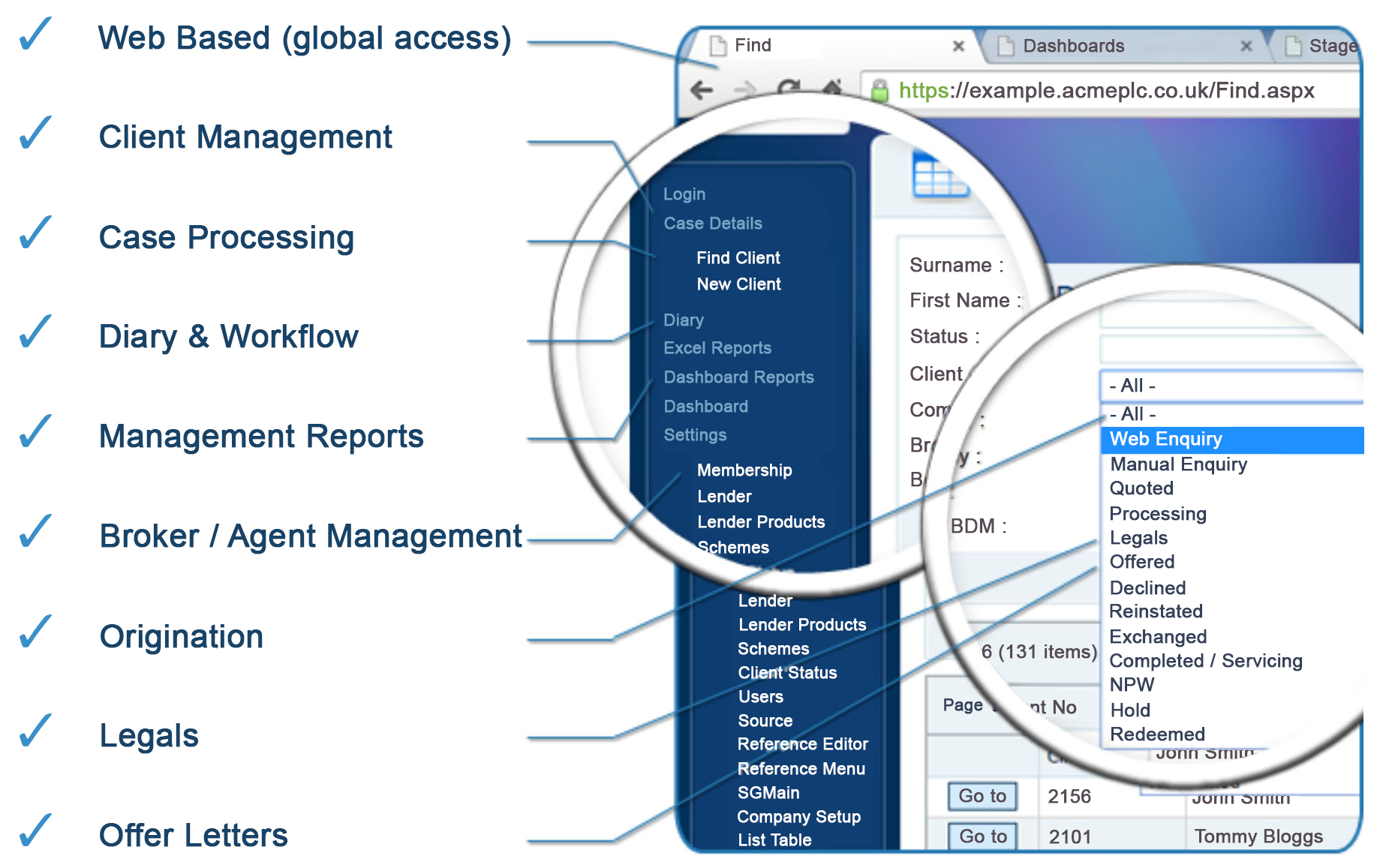 Additional modules
---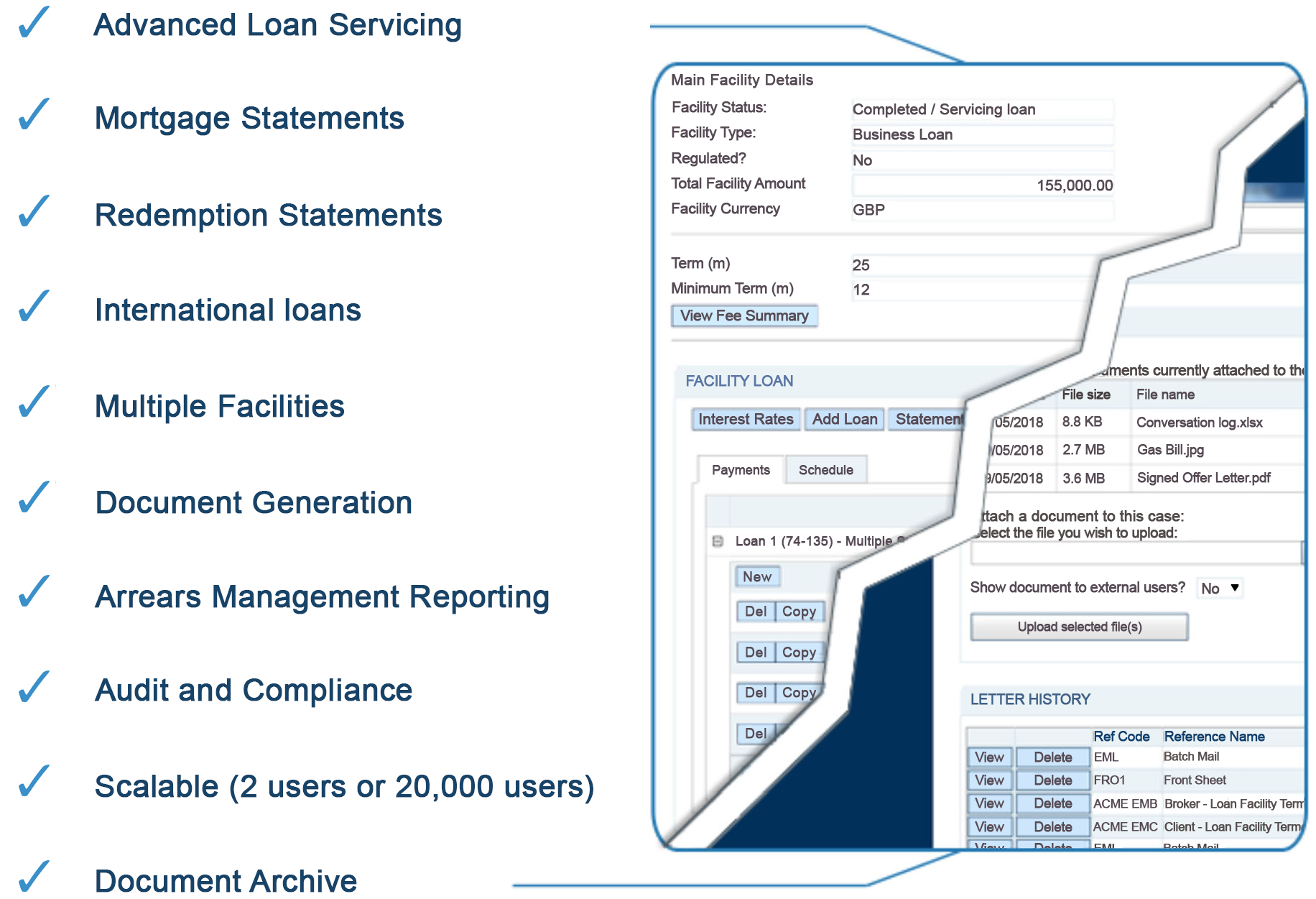 No Software to install - Impact Lender is completely web based, which means that you do not have to install any software. Impact Lender is also an easy to use, advanced lender platform, which can be used off the shelf or tailored to meet individual needs. Our platform can be hosted by either you (at your offices or your data centre), or by us at secure UK or US data centres. Some of our clients have a complete end-to-end solution. However, the system is flexible so you can decide which modules to take to use for your business.
Scalable - Impact can handle anything from 2 users to 20,000+ users. With over two decades of experience in the sector, and as market leaders in specialist lending platforms, our systems provide cutting edge solutions which have been tried and tested.
Impact Mortgage Lender can be used by:


---
Mortgage lenders


Our platform handles traditional mortgage loans with many advanced features. If you need a system that is robust and scalable, which can handle origination, broker networks, work flow, legal documents and mortgage servicing, then we have a solution for you. Our platforms also handle regulated business including Key Facts Illustrations, audit and compliance.

---
Commercial lenders


Our Commercial lending software modules can be incorporated as a default feature or added on to our residential components. As well as being able to handle other features listed in other sections, the commercial module handles unlimited directors, multiple securities, debentures and allows for complete information on commercial deals. The system also handles loan origination through to loan completion, legals and payment loan servicing and case tracking. An automated application process can also be added. The system also helps you manage complex commercial deals.

---
Development finance lenders


If you only do development finance or development finance is a part of your loan book, then as well as all of the other features listed, the system allows you to do multiple drawdowns, even multiple facilities per client and multiple sub loans per facility. If you also handle international or European loans, then the system has the facility to handle multiple currencies. You can also add on unlimited securities.

---
Short-term Finance / Bridging lenders


Our platform provides short-term finance lenders / bridging lenders with a complete loan processing system. You can quickly add in bespoke loans or select from a product range since the system is very flexible. As well as being able to generate virtually any documentation, the system can provide full management reporting, workflow management and diary. It also incorporates a near paperless office environment which includes document attachments, scanning system, document generation, email generation and a historic document storage facility. Once the loan completes, the system takes care of your loan servicing and reporting needs, including management reporting, arrears statements, loan statements and redemption statements.

---
Peer-to-peer lenders


For web-based peer-to-peer lending which occurs via websites that offer an exchange service, matching borrowers seeking finance with investors looking for opportunities. Our peer-to-peer platforms, as well as providing website integration, provide a back office system which allows you to monitor and control the loans being made. We also offer lenders the option of creating a front-end advanced website. Due to our security requirements, the back office system is completely separated from the front end website and uses secure https and ssl web services to connect the two platforms together.

---
Banks and Building Societies


Banks require a more conservative, managed and locked down approach. Our facility loan platform allows us to integrate with a banks tried and tested legacy system, so that they can extend the life of their heavily invested in older platforms. As a bank, our experience tells us, you need to know that the documentation that you produce is accurate and allows for further expansion. Our systems offer API integration, origination, processing and loan servicing (all of which integrates with your existing platforms).

---
Niche lenders


A niche lender is a lender who specializes in one market segment and has a product that is unique to them. Over the last two decades, we have seen the rise of Niche Lenders across different product ranges, including: Equity release, Home purchase plans, Sale and rent back and High net worth lending. Our platforms have been created to work around your business, providing a tailor made solution to meet your individual needs.

---